The article below, published in today's issue of Shelf Awareness, discusses how the sales of e-books are on the rise. As you all know from previous posts, I have very mixed feelings about digital books, especially for kids.
With the closures of Borders as well as other bookstores around the country, I find it interesting how e-book sales have taken off. My my question, however, is this. Are people reading as often as they did prior to the e-book boom, are they reading more, or are they reading less?


BISG Consumer Survey: E-Book Passion Unabated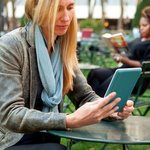 E-book sales will continue to grow as readers show increased loyalty to, and satisfaction with, the digital format, according to the second volume of the Book Industry Study Group's Consumer Attitudes Toward E-Book Reading survey.

"The e-book market is developing very fast, with consumer attitudes and behaviors changing over the course of months, rather than years," said Angela Bole, BISG's deputy executive director.

Among the findings of the new BISG survey:

Nearly 50% of print book consumers who have also acquired an e-book during the past 18 months would wait up to three months for the e-version of a book from a favorite author, rather than immediately read it in print. A year ago, only 38% said they would wait this long.
More than 46% of those who say they acquire e-books at least weekly (considered "Power Buyers" in this survey) report that they have increased their dollars spent for books in all formats, compared with 30.4% of all survey respondents.
Amazon continues to be the preferred source for e-books (70%) and e-book information (44%), followed by Barnes & Noble (26%) and Apple, but libraries are gaining ground.
Seventy-five percent of respondents said are satisfied with their e-reading device, including more than 38% of respondents who reported being "very satisfied." Less than 5% said they felt their e-reading device was not a good value for the money.
While the cost of e-reading devices remains a concern, the single most popular answer to the question of what hinders respondents from reading more e-books was "nothing," at 33% (up from 17.6% a year ago).

Volume Three of BISG's Consumer Attitudes Toward E-Book Reading has just launched and will cover e-book consumer behaviors from now through September 2012.